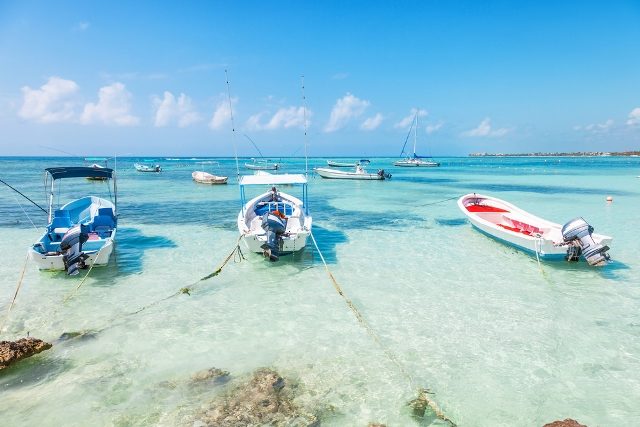 Cancun features some of the most beautiful beaches in the Caribbean and its tropical weather makes it inviting all year round. Sport fishing lovers will feel like a kid with a new toy when fishing in the Caribbean Sea crystal waters, packed with beautiful and tasty catches. With plenty of fish around you, fly fishing in Cancun will always be a success.
Fly fishing can be done in both fresh and saltwater. In Cancun you can do both! You can practice the one you are used to and also try a new one. All year round, you can catch tarpon, snook, snapper, barracuda and jacks; while summer is the best season for bonefish and permit. Not only the clearest waters in the world and a wide variety of fish species, Cancun also has the best flat-bottom boats to sail even in shallow waters and guides that will tour you into an unforgettable experience. There are charter fishing trips to the Nichupte Lagoon in front of the Hotel Zone and Bojorquez Lagoon in case you don't want to be away for too long. Both are National Parks, so no commercial fishing is allowed. That means no competition and more fish for you!
If you love deep sea fishing and have a more time and a flexible budget, you just have to go to Isla Blanca, a small extension of land 20 km away from Cancun. It has a narrow sand bank and is at a very low altitude from the sea level. It is a legendary spot for bonefishing. People even call it a heaven for bonefishing. It's a 30 minute drive from Cancun's Hotel Zone and it's totally worth it. If you're staying in the area or in Downtown Cancun, you'll surely be offered to be picked up directly from your hotel. Fishing there is usually done from boats, so no wadding equipment is required. You can rent a small boat for two or go on an all-inclusive charter in a luxury yatch.
Whatever tour you pick, it is recommended that you carry some things with you: a towel, a camera to take shots of your great catches and show off when you come back home , blocking or suntan lotion, some warm clothes -just in case it gets chilly- sunglasses and a hat to wear during the hottest hours of your trip.
Some people don't like using any other fishing equipment but their own. That is totally OK. However, if you're an amateur fisherman or someone who's never gone fishing before, you'll have nothing to worry about since you will be provided reels and fly rods. You've no idea what those even are? Again, don't worry! Guides will teach you everything you need to learn in order to have a fantastic first experience.
What about nature? Do you care about the environment? Do the companies that offer you these fishing trips care? They surely do. All fish caught in Nichupte Lagoon are released back into the water as part of a strict 'catch and release' policy since the lagoon is a protected area.
What are you waiting for? Your first Grand Slam is waiting for you!