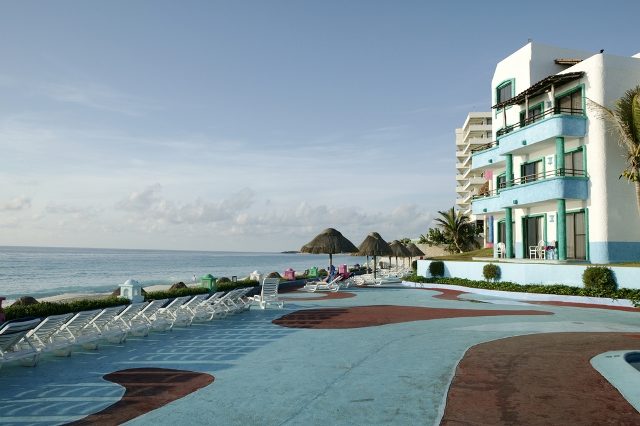 Cancun is one of the most popular, not to say the best destination to spend holidays in Mexico. This is so because of its thin white sand which beautifully contrast with the clear turquoise warm waters of the Caribbean sea. The traces of the Mayan culture, the tropical forest, the proximity with the surrounding isles, the fishing activity as well as the nightly life, clearly contributes to making this destination a real paradise.
Aquamarina Beach is a resort located on a small private beach at the entrance of the hotel district. The hotel is just 30 minutes drive from the Mexico City International Airport, near some shops, banks, and in front of a Catholic Church. Besides, just about 5 minutes in public transportation, you can find the city center, the Plaza Caracol shopping center, the Convention Center and the Pok-Ta-Pok Golf Club.
This 4-star hotel encompasses 172 rooms of four categories: Standard, Junior Suite, One Bedroom Suite and Pent-house. These are large rooms which include air conditioning, private balcony with a stunning view of the Caribbean sea, and other private facilities.
The hotel offers two plans: the European plan (just room) and the All Inclusive Plan. The services and the facilities the Aquamarina Beach provides include private beach, swimming pool, two Jacuzzis, ping-pong (table tennis), all food and drinks included, children's playground as well as recreational programs for them, parking and 24-hour security to spend your dream holidays. Besides, for those who opt for the All Inclusive Plan, there are additional services such as nightly live shows and entertainment, meals and drinks at fancy restaurants and kayaks or snorkeling equipment for you to perform water sports.
Apart from these, there other services such as Internet, laundry and valet, cars for rent, baby sitters, 24-hour medical assistance, which are available at an additional charge. For those who want to do business, there are facilities for meetings and events ready for you to use also at an additional price.
It is important to highlight that the Aquamarina Beach offers a large variety of restaurants. Restaurant "Las Perlas" provides its customers with tropical fruits, freshly juices, coffee, tea, and most importantly, Mexican delicacies. It is opened for breakfast and dinner. "La Palapa" is another restaurant for lunch and dinner which offers international specialties. In front of the pool, "La Parrilla-snack-bar", another restaurant, is located with fast-food like hamburgers, hot dogs and snacks. "El Ancla" is a bar in the main pool, opened all day long offering exotic cocktails and music for an enjoyable experience in the Caribbean atmosphere. Beers and cocktails are offered by "La Isla Bar" which are a must when sunbathing. Lastly, "El Timón Bar" is opened at night with satellite TV for viewing movies, sports games or other shows if you opt for a quiet night.
This resort in Cancun is also near theaters and exclusive night clubs where travelers can dance until or even after the unbelievably beautiful sunrise.
In the Aquamarina Beach, a real paradise, you will be able to find tranquility and privacy and a perfect place to spend with the whole family. It is also a perfect place for the newlyweds to enjoy the Jacuzzis, the tropical cocktails during the afternoon when sunbathing, and also to experience a romantic dinner under the moon light. In either case, you will for sure spend an unforgettable holiday in Cancun.