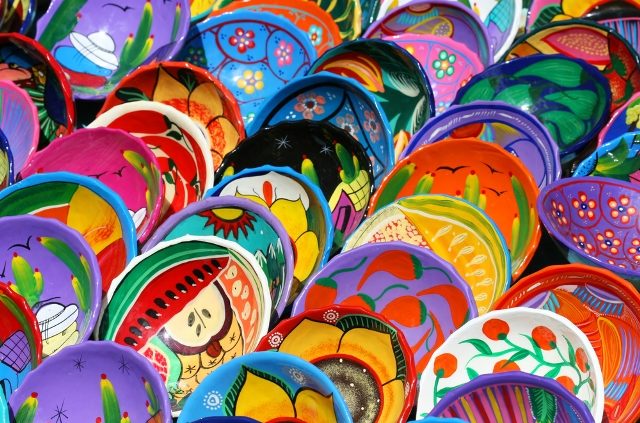 Located in the Peninsula of Yucatan, in the Yucatan State, lays the wonderful city of Chinchen Itza. Chichen Itza, Mayan for "at the mouth of the well of Itza", ranks as the second most visited archaeological site of Mexico, and this is probably due to the fact that The Kukulkan Pyramid in Chichen Itza has now been elected as one of the new Seven Wonders of the World. Furthermore, there are other archaeological sites of interest for visitors who wish to discover the magnificent Mayan civilization. While visiting Chinchen Itza, you can also rejoice in shopping the most beautiful works of Mayan artists.
When the Mayan city of Chichen Itza began to decline, the majority the population left. However, some descendants still inhabit the area and, although they no longer build pyramids or temples with limestone, they still use a lot of the natural resources to create unique works of art that are sold mostly to tourists. Local artisans mostly make use of wood, precious stones (amber, jade, and obsidian), and leather and work on them applying ancient techniques that have been inherited from their ancestors. Craftsman here chiefly specialize in basketry, jewelry, pottery, weaving and embroidery, wood and rock carvings, and paintings and leather pieces. You will find that through the works of art, you can get a glimpse of the Mayan culture's traditions, ideologies and dreams, since most works feature replicas of the glyphs, symbols and inscriptions that are represented in the Mayan temples. Furthermore, it is evident that religion and Christian beliefs are a frequent source of inspiration, for wooden crosses and the image of the Virgin of Guadalupe, made with precious stones and silver, are very common and particular to this place. For shopping in Chichen Itza, there are two options: you can either shop at the stands that are placed both inside and outside the archaeological sites, or you can visit the Toh Boutique.
At the entrance of the archaeological sites, there are dozens of little stands where you can buy the beautiful handicrafts made by inhabitants of the area. In most cases, the artisans themselves sell their works and this is a great chance for you to get an explanation of the meaning of what you are purchasing. Buying in these stalls is a very different experience from that of buying from a store. You can, and are expected to bargain for a price, and most artists are open to find a number that will suit both of you.
On the other hand, the Toh Boutique, located within Hacienda Chichen Resort, is a delightful boutique that displays an exquisite array of works of art, pottery, textiles, gifts, and Mayan jewelry, in addition to replicas of works of art featured in the Mayan museum. On top of that, Toh Boutique also carries an exclusive organic line of Spa, bath and beauty products, and an incredible Mayan jewel collection designed by the renowned designer Marc Petit. An extra feature of this Boutique is that 40% of the profits earned, are destined to both the Maya Jungle Reforestation and the Maya Foundation in Láakeech A.C volunteer community work, which are very important programs to the Mayan community and the environment.
Shopping in Chinchen Itza should be included in your list of things to do. It is highly advisable for you to visit both shopping places since they offer very different, yet equally beautiful products. While discovering the intriguing city of Chinchen Itza, buy a small piece of history and take home a fantastic souvenir of your trip.