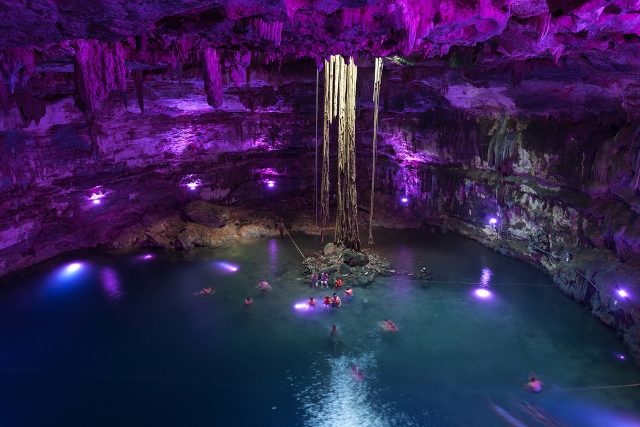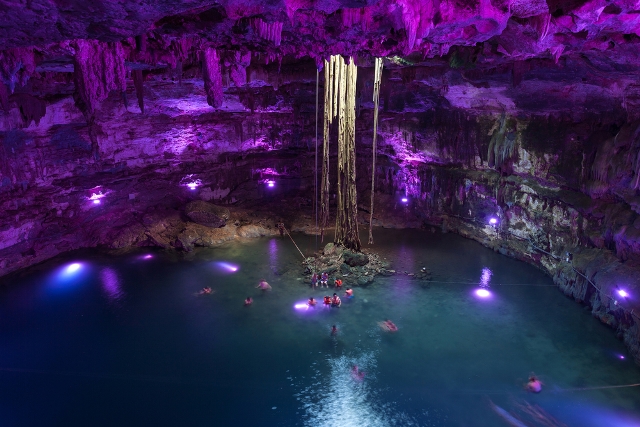 Looking to snorkel in Cancun? Consider snorkeling in Cancun cenotes, caves carved out from the ice ages with limestone stalactites and stalagmites that offer the best snorkeling in Cancun, in beautiful crystal clear waters.
Explore the cenotes close to Cancun and snorkel through caves that the Mayans once used for drinking and irrigation. The Caves were also where many offerings made to the gods were found, ranging from gold to jade. The closest cave to Cancun is in Boca del Puma, where travelers can explore the cavernous expanse from the water, or wander through the caves and spot bats and other wildlife that make their home there.
Sistema Xcaret offers snorkeling through the underground river which runs through the famous caves. If you want an alternative to swimming in the cave, wander through the archaeological ruins outside of the cave, or visit the tropical bird farm and walk on the beach.
Cenotes often resemble small circular ponds, since they are formed by the dissolution of the rock around it. Today more than 1,000 cenotes have been located around the Yucatan Peninsula, and are slowly becoming a tourist destination due to their archaeological value and unique beauty that cannot be found anywhere else.