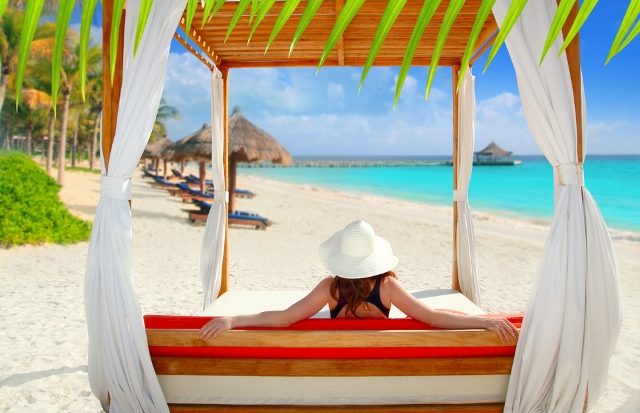 The Reef Yucatan All Inclusive Hotel & Convention Center is a five star complex located next to the beautiful virgin beaches of the Gulf of Mexico, in the Yucatan Peninsula. It is only 50 minutes away from the Merida's International Airport. It is surrounded by an ecological area and it is full of pre-Columbian history.
For those who want to enjoy Mexico's beauty, The Reef Yucatan is an excellent choice. It is just five minutes driving distance from the ruins of the Mayan city of Xcambo, which was discovered not long ago. Also, just 30 minutes away you can find the Natural Reserve of Dzilam and the ruins of Dzibilchaltun. As you probably know the Yucatan Peninsula is an incredible place famous for the beautiful virgin beaches, the mysterious ruins of Maya cities, temples and pyramids and the gorgeous colonial cities. Only two hours away from the Reef Yucatan All Inclusive Hotel tourists can visit the ruins of Chichen Itza and Uxmal. They are two of the most important pre-Columbian cities in America.
The resort is thought and designed to meet the expectations and desires of international and domestic travelers that want to spend the best of times with the family or with friends. Guests can enjoy their stay with all the comfort and luxury of this five star hotel. It has 147 rooms, its decoration is influenced by the culture of the Yucatan Peninsula, they have Mexican textures and floorings and the exterior resembles a Maya Village.
To relax and sunbathe there is a swimming pool and a beach snack bar. For those who like to practice sports, you can play tennis or ho kayaking along the beautiful turquoise waters of the Gulf. There are other recreational activities as well such as ping pong, pool and a mini golf. If you are travelling with your children, keep in mind that there is a children's club that has a mini-theater, a soda fountain, an arts and crafts center, a secure playground, a wading pool and a TV room. It is a safe environment where your children can have fun and make new friends. Plus, there is a disco and video bar, and a convention center with room for six hundred guests.
Within the hotel there is a restaurant, there guests can have a nice moment while they enjoy delicious lunches or dinners. But if you are feeling hungry during the day, there is a snack bar just to eat something quickly along the day. Also, you can find a boutique and a gift shop so that you do not have to go around many places looking for the perfect souvenir for the ones that stayed back home. They have many interesting beautiful things you can choose from.
In the Yucatan Peninsula you can find everything you want. If you want sun, beach and sea, the coastal cities are perfect for you. If you like history, museums and culture, it is also perfect because there are incredible ruins of Maya cities and also there are nice colonial cities. If you decide to visit this amazing land, you should stay at the Reef Yucatan All Inclusive Hotel, you will not regret it.