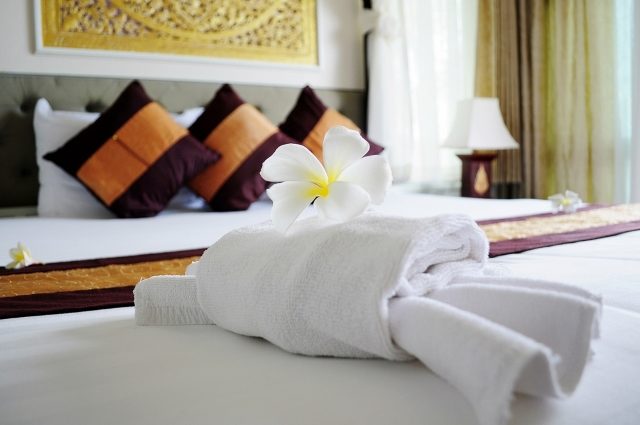 There are some interesting boutique Hotels in Merida, for those who want to stay at a small hotel but still enjoy world class service and facilities. The following are some of the most recommended ones:
Casa Lucia Hotel is a 4-star hotel located in the historic centre of Merida, It is close to the most famous attractions in the city, such as the Peon Contreras theatre and Plaza Grande square. This luxurious and finely decorated hotel has 3 different rooms available. Two of them are guest rooms with distinctive amenities that include oil paintings, marble baths, Wi-Fi access, cable TV, antique furniture, and excellent garden views. Rooms service is provided 24 hs. The hotel has a beautiful pool surrounded by a lush garden, all decorated with Venetian mosaics. As regards dining, there is a renowned restaurant called Cafe Lucia. This is famous because of the interesting combinations of international specialties, traditional Yucatecan meals, and also fast food that it serves. It is ready to please different palates, no question about it. Inside the hotel there is a boutique selling Fabrizio clothes, which are high quality linen items.
Another great boutique hotel in Merida is the Piedra de Agua Hotel. This is also a 4-star hotel that provides complete spa services. It is strategically placed in the heart of the city center, only a couple of minutes away from the International airport and very close to the main entertaining, shopping and tourist places of the Merida. In fact, it is only a few steps from the Merida Cathedral. All the rooms and suites of this hotel are spacious and have all the modern amenities needed to ensure a pleasant stay. Some of them are cable TV, air conditioning, free wireless Internet access, and vanity mirrors. Further, the hotel has an outdoor pool and a fitness center that is great to do some quick excercise. What is even better, the Piedra Agua Hotel has a world class spa that offers a myriad of body and facial treatments for their guests.
The Villa Merida is another fine boutique hotel. It is located in the colonial sector of Merida near lots of tourist attractions, such as the Peon Contreras theatre. This hotel has ben restored but it kept its Spanish colonial features. There are only 7 rooms available. They are equipped with handmade furniture, air conditioning, high speed internet connection, a mini-bar, cable TV, and safe deposit box. 24/7 service is provided by the hotel friendly staff. There is a courtyard and an outdoors pool, where guests can spend some peaceful time on their own or with friends. The hotel also has a spa offering a variety of massages and treatments. The Villa Merida offers delicious meals of Spanish and local Yucatecan origin. They also have a bar, and an optional service of a Private Executive Chef so that guests are able to try the dishes they preffer. A continental breakfast is served every morning. It includes fresh fruits and home-made products like bread and jam.
Choose the best option for your next trip, and come to see the wanders of Merida!