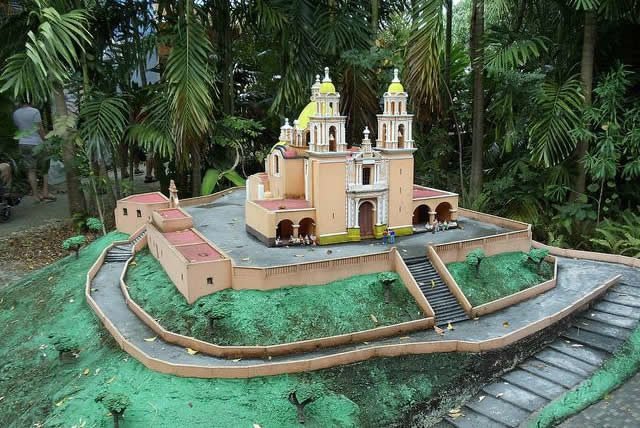 Discover Mexico Park is located in Cozumel at 0.5 miles away from Puerta Maya and it's 5 minutes car ride away from downtown. If you arrive by cruise ship, you can take a cab and be there in 8 minutes approximately.
General information about this attraction
Discover Mexico is one of the main attractions at Cozumel and provides a unique experience to tourists. The park gives you a complete introduction to Mexican history, from prehispanic to modern times. You can make reservations online with your credit card and, in case you cannot go, you can get a full refund for the tickets.
Recommendations!
If you go on a sunny day, don't forget to take you glasses and comfortable cloth for the tour! It does not require any physical effort, it's easy and fun. It is also important to mention that the park is prepared for all weather conditions.
Services included in the tour
Restrooms
Umbrellas
Taxi Services
Parking Lot
Bilingual Guide
Medical Services
What can you do in the Park?
There is a great variety of activities in the park that you can enjoy! This is a wonderful experience that everybody can take advantage of!
Hand Crafts and Souvenir Shop: At this shop, you can buy presents for you and your family and take the finest art home!
Restaurants with traditional food: You can taste traditional Mexican food and special beverages at the "Mercadito Corona" bar within the park.
Popular Art Museum: Visit the museum that combines the finest artisans from Mexico, with excellent handmade pieces.
Video Room: Feel and sense the extraordinary history of Mexico in the Video Experience Room.
History walk: Walk in through history, exploring Prehispanic, Colonial and Modern Mexican wonders through beautiful high quality miniatures surrounded by local flora and fauna. By following the path of history you will see a complete scenario, including Maya architecture, churches and cities with exquisite details on each model.
Tequila Seminar!
Do you want to taste the real Tequila and know its history? Then Discover Park offers you the solution! At this seminar you will learn about Tequila and its secrets, how it is prepared and of course you can also taste it. Lunch is included in case you decide to take this tour.
What visitors say about Discover Park
Tourists share their experiences on this park in TripAdvisor website, where it has been ranked as one of the top Cozumel Attractions.
They highlight the excellent tourist guides, always willing to explain every detail. They also mention the variety of things to do and especially what you learn about Mexican culture and history.
Be part of Discover Park. Be part of Mexico.