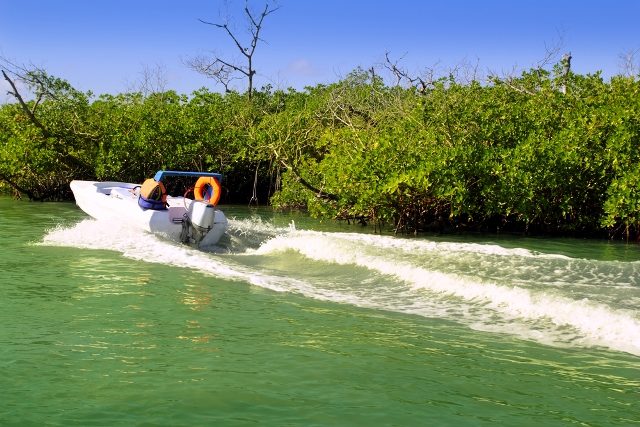 Located at the hotel zone in Cancun, the Natural Marine Park offers the Sunrise Marine Jungle tour. It will be the most exciting experience if you are planning your adventurous holidays in the Caribbean Sea.
Jungle Tour is among the three most popular tours chosen by visitors on the island. Tourists love the adrenaline rush that they experience when driving a watercraft through the crystal clear waters of the Caribbean Sea.
The two -hours and a half tour begins with a boat-ride across the Nichupte lagoon and the mangroves. During the voyage, you will be able to admire the wild animals and the spectacular flora in their natural environment. In the second stage of the tour, expert guides will lead you to the crystal waters of the Caribbean Sea, where you can practice snorkeling at the world's second biggest reefs called Nizuc and Lemons. During this 30 minutes experience, you will get to know the amazing marine fauna and the beautiful coral reefs. In the last stage of the adventure, the boats will return through the mangroves and the lagoon to Sunrise Marine, where the tour will end at the Snack bar. It is a marvelous experience to share with a friend!
You can drive the watercraft with a friend or you can meet a new friend at the park for the tour. You will be able to ride an Aqua ray or a Speedboat for two people during 45 minutes to the coral reef. The snorkeling gear, life jackets, a bottle of water, lockers and an English-speaking tour guide are included in the tour's price; and the use of the life jacket is mandatory. Kids under 18 years old are not allowed to ride the watercrafts and must always be accompanied by an adult during the tour.
The Jungle Tour departs every day, every hour from 8 am till 4 pm. You should make your reservation in advance! Please, remember to bring your towel and your biodegradable sunscreen to be properly protected from the sun; and you need to be at our premises thirty minutes before the tour starts.
The Jungle Tour is a very popular activity among tourists, because it gives them an awesome perspective of Cancun from the water with all the fun and adventure ingredients – riding a watercraft, swimming with the most colorful marine animals and enjoying the marvelous view of the most beautiful coral reefs.