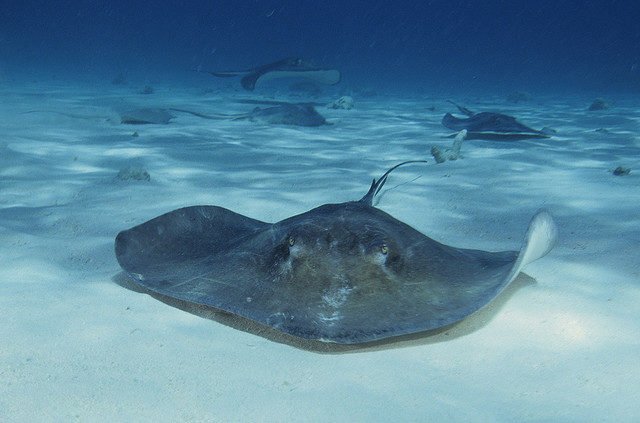 Stingray Beach is a wonderful and unique excursion where you can experience the presence of real live stingrays, by touching and feeding them with your own hands! It's really safe as their barbs have been taken away.
Cozumel offers best stingray experience, best entertainment and also there is place for comfort and relax, take a look at our main attractions!
How do you get there?
Stingray Beach is located on the coastal highway, 2 minutes away from downtown and 5 minutes from all cruise ship piers.
Tour Duration
The two main attractions of the tour include: Ray Encounter that takes ½ hour and snorkeling with fishes that takes ½ hour (total duration 1 hour approximately). After you enjoy and finish with the tour you can use the beach facilities to sunbathe, swim, and have a drink at the bar in order to get a full experience in this magic place!
Schedule
This attraction opens daily from 7:00 AM to 5:00 PM. Please take into account that last Stingray Tour is at 3:00 PM.
Main Activities
To start with, we offer a brief presentation on gear safety and how to feed and hold rays.
Stingray Encounter
The encounter takes ½ hour. Get into the water and swim alongside the sweet stingrays. Our expert guides will tell you and teach you how to play with these awesome fishes. Groups are reduced (no more than 6 per guide to guarantee personalized attention) so that you can take advantage of the experience. You can touch, feed and hold them and in return they kiss the palm of your hands!
Snorkeling
The second part of the tour takes ½ hour. You can go up 18 feet deep and snorkel with these spectacular animals and also with thousands of colorful fishes. Remember to bring you own underwater camera or the guides and take pictures for you.
This tour became famous among major cruise lines and now regular clients come and visit us.
Hermit crab race
Do you want additional entertainment? Get ready for the hermit crab race!
All-Day Use of Private Beach Club Facilities
Included in the tour
English Speaking Tour Guides
Goggles, Water Shoes and Snorkeling Equipment
Facilities at the beach
Afterwards, you can just relax on the Beach Club, enjoy the snack bar and buy some souvenirs.
Don't forget!
Sunblock
Swimsuit
Towel
Extra Money in case you want to have a snack or buy a present at our barb shop
Underwater Camera to take pictures with the rays and fishes
Sunglasses
Activities at the beach are available for the whole family, where you can enjoy from swimming with stingrays to snorkeling and watching hermit crab races!
Join us to this great adventure in Cozumel with the stingrays!